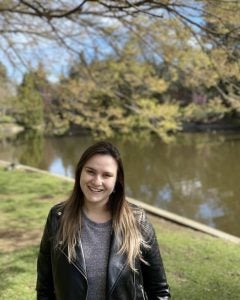 Dr. Natalia Fernandes
Ph.D. Agricultural Microbiology, Federal University of Lavras – Brazil / University of California, Davis, 2021
M.S. Agricultural Microbiology, Federal University of Lavras – Brazil, 2018
B.S. Biology, Juiz de Fora Higher Education Center – Brazil, 2015
Email: natfernandes@ucdavis.edu
Natalia was born and raised in Brazil. She received her BS in Biology at Juiz de Fora Higher Education Center (CES-JF). During her undergraduate, she did an internship at the Rumen Microbiology Lab at Embrapa Dairy Cattle, where she spent a year working with microorganisms present in the rumen and the microbial dynamics of biodigesters fed with cattle and swine manure. In addition, as an undergraduate student, she carried out research involving different areas of biology and biochemistry, making it possible to gain a great deal of experience with different research laboratories. She received her MS in Agricultural Microbiology at the Federal University of Lavras (UFLA) in 2018. At UFLA, she worked with Prof. Disney Ribeiro Dias, where she studied the production of biosurfactant by yeast and its bactericidal, fungicidal and larvicidal applications. In 2021, Natalia received her PhD in Agricultural Microbiology at UFLA, with a period at UC Davis as a visiting scholar, in which it was possible to characterize the chemical structure of the biosurfactant with the expertise of Prof. Jacquelyn Gervay Hague. At the Gervay-Hague lab, she had the opportunity to obtain training in equipment used for characterization of chemical structures, such as LC-MS, GC, MPLC and NMR, as well as spectral analysis. She is currently working in the Gervay-Hague lab as a Postdoctoral Scholar, where one of the researches will be isolation and characterization of naturally occurring glycolipids using silicon NMR and her long-term research interests involve developing a comprehensive understanding of nanoparticles, including viruses, present in tea plants (Camellia sinensis), as well as the isolation and characterization of microorganisms involved with these plants and their biotechnological applications.
Raylin Huang
Undergraduate Researcher
Raylin is majoring in chemistry, focusing on forensic emphasis. Currently, she is supporting Dr. Natalia Fernandes's research on the identification and isolation of tea plant (Camellia sinensis) nanoparticles and phytochemicals, including glycolipids, bacteria, and viruses. She is also minoring in anthropology, focusing on evolutionary emphasis.

Ami Rose, 
Ph.D. Candidate
B.S. Chemistry and B.S. Applied Mathematics 2017, CSU, Chico
Ami's research interests include Camellia sinensis, fresh plant chemistry, polyphenols and alkaloids, and analytical chemistry. Recently, Ami has ventured into method development for natural product synthesis.
Justin Medrano
Undergraduate Researcher
Justin is a 3rd year pharmaceutical chemistry major, currently assisting with Ami's research on the characterization and silylation of tea catechins. Justin first joined the TEAm after studying organic chemistry abroad in the UK during his sophomore year. In the coming year, Justin will be undertaking a senior research project which will help further Ami's research goals.

Isiah C.
Undergraduate Researcher
Isiah works under Ming and assists with the maintenanceand data collection of hydroponically grown tea, investigating the effect of environmental conditions on the chemical profile. Isiah majors in Food Science and his interest lies in sustainable foods, agriculture, beverages, and research & development.

Anna Quigley
Undergraduate Researcher
Anna works with Ming in analyzing the amino acid concentrations in tea leaves by performing tea extraction and data analysis. Anna is currently pursuing a Bachelor's Degree in Food Science and strives to continue learning more on her journey.
Matthew Orellana, Ph. D. Candidate
B.S. Biochemistry, San Francisco State University, 2018
Matthew is focused on the synthesis of lipids with bioorthogonal functional groups and synthesis of complimentary fluorophores. These metabolic precursors are delivered to various growing media and withdrawn from total lipid extracts by capitalizing on the specificity of the Copper(I)-catalyzed azide-alkyne 1,3-dipolar cycloaddition (CuAAC). The result of this strategic design is isolation of lipid metabolites parceled with highly-ionizable fluorophores. This work, accompanied by pure glycolipid standards previously synthesized by our lab, provide the synthetic toolkit necessary to detect and characterize femtomolar amounts of metabolites by HPLC-MS/MS.
Bao Vue, Ph.D. Candidate
B.S. Chemistry, California State University Fresno
M.S. Chemistry, California State University Fresno
Bao's research focuses on applying ReSET (Regioselective Silyl Exchange Technologies) to functionalize carbohydrates using continuous flow microfluidics.
Octavio Sousa, B.S.
Visiting Scholar
B.S. Agronomy, Federal University of Lavras – Brazil, 2020
Octavio earned his bachelors degree in Agronomy at the Federal University of Lavras, one of the most respected universities in Brazil in the agriculture field. He is currently a grad student in a specialization course entitled "Soils and plant nutrition" at USP, another prestigious Brazilian university. Octavio has always worked with research but has also ventured into the corporate world. He has experience with seed quality, soy, corn, coffee and nursery management. Octavio has a great passion for trying to find solutions to problems facing the world of agriculture. His current interests include soil fertility and microbiota, protected cultivation, plant nutrition, and biocontrol focusing on Camellia sinensis.